BPW Trailer Axles, Suspension Systems and Brakes: BPW spare parts after market for series H / R, KH / KR, NH / NR – BPW trailer parts South Africa, Australia, Europe, Russia, Sweden
Dastrucks is BPW parts specialist. We offer best quality of BPW trailer parts and since we have immense knowledge of almost all the BPW suspension and BPW axle components, you will never go wrong with us.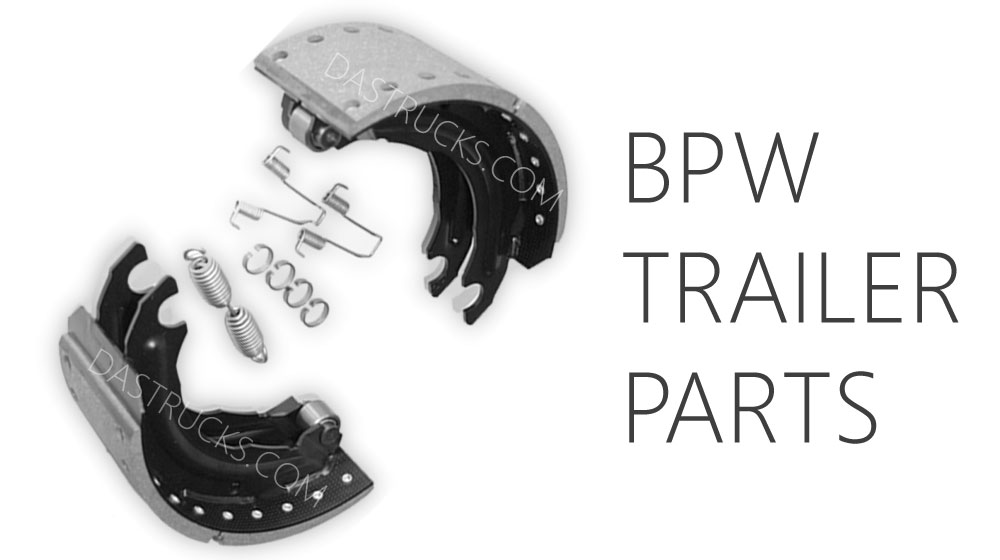 If you own a BPW trailer using BPW axle, then we can help you find the best replacement, after-market parts that are designed to perfection. To start working with us, just send us part numbers taken from BPW catalogue or pictures.
Here is list of some of the BPW trailer parts we supply.
BPW axle seat, BPW bottom bracket, BPW center hanger, SG iron d bracket, d-bracket s.G iron, equalizer new model, equalizer old model, front hanger fabricated.
Rubber draw upper 16 ton axle, balance rod bush 36mm, radius rod adj.36mm, radius rod adjustable 30mm, wheel nut 16 ton, wheel nut 14 ton, rigid rod 36mm big, rigid rod 36mm small, equalizer rubber bush with hanger 60 mm, equalizer brass bush with hanger 70mm, pin 60 mm, equalizer rubber bush 60 mm new model, seal, 16 ton grease cap, 14 ton grease cap, 12 ton grease cap, inner brass bush for 70mm equalizer, brass bush 16 ton, rubber bush 60 mm equalizer, jesser nut big, jesser nut small and balance rod bush 30 mm.

03.140.16.01008.0299, 511393030, 05.443.47.150, 03.262.17.110, 03.262.17.080, 03.140.66.010, 03.177.16.290, 03.310.99.010, 03.310.99.020, 03.212.26.010, 03.212.25.010, 03.212.24.020, 03.112.99.040, 03.264.19.03.0, 03.264.19.02.0, 511390650
If you need a BPW trailer part, Dastrucks would most probably have it. And since we test everything before sending them off to you, you will have total peace of mind. We are here to remove any confusion that you might have with a particular part.
No quantity is too big for us and no order is too small for us.
Dastrucks promises to provide high quality, aftermarket BPW trailer parts to our clients. We test each and every BPW trailer part before we pack it for you. Our engineers procure high quality products with excellent quality at affordable price. They have exceptional finishing and designed to perfection.

Here are the items that we do in our BPW catelogue. Please note that part numbers are used for reference only. We sell high quality, after market, replacement parts for BPW trailers.
SN3020 Conventional Hub 9t 80mm,50mm – Light Weight 0264102400 33116 0264102500 32310 15"/19.5"/22.5" Conventional Hub 10/12t 90mm,65mm – New Gen 0264102300 33118 0264102200 33213 0"/22.5" ECO Hub 9t 80mm,50mm – Light Weight 0264102400 33116 0264102500 32310 15"/19.5"/22.5" ECO Hub 10/12t 90mm,65mm – New Gen 0264102300 33118 0264102200 33213 0"/22.5" ECOPlus 9t & 10/12t 90mm,65mm – ECOPlus 0264102300 33118 0264102200 33213 19.5"/22.5" 0321223020 0321224020 03212230900321224070 0321224250 0321225080 0321225310 0832876290 Replacement BPW hubs 0580149430 0832876330 0327247250 0327247390 0327247270 0327247390 Spider BPW hubs 0832870160 0832870130 0832876360 0832876300 Spider hub – dual wheels 0832870150 0832870140 0832876330 0832876290 Hub 8 stud 275 PCD – dual aluminium wheels 19.5" – 0327228510 Hub 10 stud 285 PCD – dual aluminium wheels 0327229080 0327228450 0327247270 0327247250 Hub 10 stud 285 PCD – single wheels 0"/22.5" Hub 10 stud 335 PCD – dual aluminium wheels 0327230560 0327248550 0327248520 Hub 10 stud 335 PCD – single wheels 0327230540 Dust seal 0312047050 0331098240 O Ring seal carrier oil hub 0256779040 0256780000 Seal carrier 0337007460 0537006480 0337007470H 0537007430 Seal grease inner 0331097310 0331097300 Hub seal – oil hub 0256642657 0256644657 Grease seal outer 0331097320 0331098210 Inner bearing 0264102400 0264102300 Grease shield (slinger) 0301004150 0301005220 Outer bearing 0264102500 0264102200 Washer ECO axle beam 0332073130 0332064010 Axle nut 0326216080 0326217160 Axle nut for ECO axle beam 0326216150 0326217180 Split pin 0262018201 0262018401 Hub cap 0321223090 0321224070 Spider hub – dual wheels with lip seal 0239103118 418 Dust seal 0312047050 419 O Ring seal carrier oil hub 0256779040 420 Seal carrier 0337007450 422 Hub seal – oil hub 0256642657 430 Inner bearing 0264102400 431 Grease Shield 0301004150 441 Outer bearing 0264102500 Washer ECO axle beam 445 0332073130 (refer info below) Axle nut 0326217160 446 Axle nut for ECO axle beam 0326216150 (refer info below) 447 Split pin 0262018401 0321223090 Hub Steel 10 335 suit dual aluminium wheels 0327232010 0327248880 0"/22.5" KH Hub 10 Stud 285 PCD suit dual aluminium wheels 0327228630 0327247290 435 Hub 8 Stud 275 PCD suit dual aluminium wheels 19.5" 0327228690 Hub 10 Stud 225 suit dual aluminuim wheels 15"/17.5"/19.5" 0327227410 ECO axle stubs retrofit kit 0980107082TS 0327247290 0327247390 Axle 0980102720TS 0980106890TS Wheel bearings and seal kits 0980102720TSSC 0980106890TSSC Seal carrier 0337007600TS 0337007620TS 422 Hub seal 0256645700 0256645800 423 Seal keeper ring 0256836200 0256836300 424 O Ring 0256779040 0256780000 428 Dust seal 0256819800 0312048130 430 Inner bearing 0264102400 0264102300 431 Dust cover 0301093330 0301093340 437 Circlip inner hub 0256064090 0256066090 438 Circlip outer hub 0256061290 0256062290 440 Thrust washer 0337025160 0337026240 441 Outer bearing 0264102500 0264102200 445 Washer 0332073130 0332064010 446 Axle nut 0326646020 0326647030 447 Pin lock axle nut 0308471170 448 Locking ring axle nut 0318803060 0318804080 0321224250 0321225080 460 Hubcap 10t/12t Conventional Spider, Conventional 10/285 and ECO 10/285 0832876290 HUB 3 SPOKE GREASE HXZ N/GEN 0580149430 HUB 3 SPOKE SPIDER – ECOPLUS H/R10 ASSEMBLY 0832876330 HUB 3 SPOKE OIL HXZ N/GEN 0327247250 HUB 10/285 HZ910 D/ALU GRS 0327247270 HUB 10/285 HZ91 D/ALU OIL 0327247390 HUB H10 10/285 ECOPLUS D/AL DRUM 0327247290 HUB 10/285 HZ91 D/ALU ECO GRS 0310667580 28 mm 9t 0310667700 52 mm 10t/12t 0610967089 52 mm 10 85 9t & 10t/12t 0310666100 H/R SN4218 0"/22.5" 29 mm 10 85 9t Back nut 380 0310667690 52 mm 10 335 9t & 10t/12t Refer 0310667620 26 mm 10 335 9t Page 8 0610967789 52 mm 10 335 10t/12t Push in 0310990220 63 mm 8 75 9t Back nut 0310990240 KH SN3620 19.5" 63 mm 10 25 9t 0610990039 63 mm 8 75 9 & 10t/12t Push in 0310547050 15"/17.5" 55 mm Spider 9t NR SN 3020 0310946400 15"/17.5" 95 mm 10 25 9t Axle 0"/22.5" 19.5" 15"/17.5" Brake lining sets T090/4218 T090/3620 T090/3020 BPW Brake hardware kit 098064218BHNG Bush 0311233080 4 311 Anchor pin 0308446220 0917723090 4 315 Wedge lock 0316723020 0316724010 Roller assembly 0333134050 0333134010 346 Roller retainer 0335000130 0335000140 4 348 Split pin 0262016603 Steel rivet 0258058035 80 360 Pin 0300108050 0308442020 0300108050 363 Return spring 0539746070 0539745140 0539735030 4 364 Return spring 0339744060 03.397.33.06.0 03.397.33.07.0 0339733120 0339733130 Wedge lock BPW Brake 95 conversion 0316723090 0316724010 4 330 Lined brake shoe c/w roller 0509146320 0509119220 0509114770 4 0539758030 0539746130 0539746120 Return spring 0339744060 BPW Brake shoe and hardware kit 0509146320BH95 (Includes items 325, 330, 363, 367, 368) BPW Brake hardware kit 098064218BH95 098063620BH95 (Includes items 325, 345, 346, 348, 363, 367, 368) BPW Brake spring kit Kits 4218SPKIT 3620SPKIT 1 (Includes items 363, 367, 368, 325 and item 295 refer page 31) BPW Brake shoe roller repair kit 0980102910 (Includes items 345, 346, 348) Brake lining sets T090/4218 T090/3620 T090/3020 1 (Includes items 350, 357) 325 Ring, anchor end C Clip 0318802020 8 330 Lined brake shoe complete with roller 0509146320 0509119220 0509114770 4 345 Camshaft roller complete with bush 0533144020 4 346 Roller shaft 0308475240 4 348 Ring, roller retainer 0331070150 8 350 Brake lining segment Not sold separately, refer Kits – Brake lining sets 357 Rivet (steel) 0258058035 80 0539758030 0539746130 0539734170 363 Return spring (2 per axle) (4 per axle) (4 per axle) left 367 Retention spring (Hook) 0339733120 0339733080 368 Retention spring (Eye) 0339733130 0339733090 Brake camshaft – 4 / 91 05.097…..0 Brake camshaft 5 / 91 – 05.097…..1 / 02 – 05.097…..3/4 0509705171 0509705181 509.5 628 540 0509705211 0509705221 522.5 641 563 0509705231 0509705241 547.5 666 578 0509705251 0509705261 577.5 696 608 0509705274 0509705284 615.5 734 646 0509705291 0509705301 634.5 753 665 0509705371 0509705381 699.5 818 730 0509705491 0509705501 741.5 860 772 0509705311 0509705321 0509760192 0509760202 469.5 620 500 0509760032 0509760042 509.5 660 540 0509760092 0509760102 522.5 673 553 0509760072 0509760082 548.5 673 579 0509760232 0509760242 557.5 682 588 0509760054 0509760064 582.5 707 613 0509760454 0509760464 Bush Outer Camshaft Bronze 0311244340 Grease Nipple (M10 x 1/4) 0268020650 14 Grease Nipple Inner Camshaft Bush 0268021450 15 Cap Grease Nipple 0235052000 4 20 Bearing Box Outer 0322902180 21 Bearing Box Inner 0322902190 25 Bush Inner Camshaft 0311314040 27 Grease Nipple 0268021450 30 Bolt Assembly 0586500020 31 Spring Washer 0254030892 32 Nut 0252021282 BPW Camshaft Small Parts Kit 45 0980100142 (Items 250 – 262,268,270,274) 50 Circlip 0256760100 52 Camshaft washer 0331012240 54 Ring 0331081020 55 O Ring (37 x 2.6 Black) 0256773742 56 O Ring (40 x 2.5 Green) 0256792300 58 Dust Seal Outer Cam 0312042020 Circlip Camshaft Spline 0256160590 60 Bush Adaptor Sleeve 0311303060 62 Disc 0332011161 Lever (Brake Wear Indicator) suit ECO-Master 66 0319014070 Slack Adjuster 68 Lock Nut Camshaft 0326014080 70 Dust Seal Camshaft Large Grey 0312043140 71 Dust Seal Outer – Inner Camshaft 0312042090 72 Dust Seal Inner – Inner Camshaft 0312042080 74 Clamp 0335030020 BPW slack adjusters Slack Adjuster 4 Holes 0517452610 0517452430 Slack Adjuster 6 Hole (Multihole) 0517465130 Grease Nipple 0268500102 Cap 0235052000 80 95 Return Spring 0539726030 Auto Slack Adjuster 6 Holes, a = 24° 0517482632 83 15 80 Auto Slack Adjuster 6 Holes, a = 120° 0517482212 Auto Slack Adjuster 6 Holes, a = 180° 0517482242 83 Cap 0321190150 84 Grease Nipple 0268500102 15 Cap 0235052000 95 Return Spring 0539726030 114 60 49 0329623170 0326004060 0980623410 0329623170 0980623280 0326004060 Steel Aluminium 1E 139 85 49 0329623240 0326004120 0980623500 M 22 x 1.5 0329633171 0526054100 Aluminium Steel 6E 128 84 0329633090 Grease Hub 0580149430 0832870150 0832870140 ECO Plus 0"/22.5" (Inc's 101 – 103) (Inc's 101 – 103) (Inc's 101 – 103) 6 spoke 6 spoke Spider Hub – dual wheels 3 spoke 0239103118 3 spoke 0832870160 0832870130 0832876360 0832876300 Spider Hub – single wheels Wheel Clamp – dual wheels 0337203020 12 0"/22.5" 101 Wheel Clamp – single wheels 0218162000 12 Wheel Clamp – dual wheels 15" 0337206200 6 0"/22.5" 0334073071 12 102 Wheel Stud 15" 0334073100 12 103 Wheel Nut 0326003040 12 0"/22.5" 104 Bolt – spider hub drum assy 0250266110 12 & 15" 105 Nut – spider hub drum assy 0326003120 0301098451 0301098080 0301098461 0301098090 Square beam 120mm 16° 0301099340 0301099330 0301099360 0301099350 Pre BPW Brake 95 Square beam 150mm 5° 0301098910 0301098120 0301098920 0301098130 Round beam 127mm 30° 0301098690 0301098060 0301098700 0301098050 30° 0301081030 0301081040 0301081010 0301081020 Square Beam 120mm BPW Brake 95 16° 0301099590 0301099600 0301099570 0301099580 Square Beam 150mm 5° 0301081350 0301081360 0301081330 0301081340 Round Beam 127mm 30° 0301081070 0301081080 0301081050 0301081060 0301099590 (1) 0301099600 (1) 0301099570 (1) 0301099580 (1) Square Beam 120mm 16° BPW ECO Drum 0301071930 0301071940 0301071910 0301071920 Square Beam 150mm 5° 0301071870 0301071860 0301071850 0301071840 Axle 508 Dust Cover Retaining Spring – ECO Drum only 0339711020 Bolt Dust Cover Self Locking 0250712200 M10 x 18 4 510 Bolt Dust Cover Self Locking – ECO Drum only 0250715580 M10 x 1.5 x 15 Plug, No ABS, Pre BPW Brake 95 0237043300 10.7 513 Plug, No ABS, BPW Brake 95 and ECO Drum 0237045700 6/10/13 515 Seal 0312023060 52/68/8 Seal – Square axle beam 120mm/Round axle beam 127mm 0512130060 L = 340, 8 517 (Used with both Pre BPW Brake 95 and BPW Brake 95) Seal – Square axle beam 150mm 0512130070 L = 450, 8 520 Plug Rubber Backing Plate 0337900230 Round Beam 127mm 0301096800 0301096790 0301096820 0301096810 BPW Brake 95 SN3620 Square Beam 120mm 0° 0301099790 0301099800 0301099770 0301099780 Bolt Dust Cover Self Locking 0250712200 M10 x 18 8 513 Plug, No ABS 0237043300 10.7 Seal – Square axle beam 120mm/Round axle beam 127mm 517 0512130060 Plug Rubber Backing Plate 0337900230 M 115 x 2 11 R 22.5 3175 mm – 3220 mm 0521223340 N 11 R 22.5 3175 mm – 3220 mm 0521224490 315/70 R 22.5 3015 mm – 3134 mm 0521224330 ECO M 125 x 2 55/70 R 22.5 830mm – 2860 mm 0521224530 SN4218 0521224520 75/70 R 22.5 915 mm 0521224520C ( note below) 75/70 R 22.5 915 mm 0521225420 ECOPlus M 136 x 2.5 9 tonne 385/65 R 22.5 3240 mm – 3260 mm 0521225460 Conventional M 115 x 2 65/70 R 19.5 620 mm – 2650 mm 0521223290 SN3620 65/70 R 19.5 620 mm – 2650 mm 0521224340 ECO M 125 x 2 45/70 R 19.5 560 mm 0521224440 15/75 R 17.5 350 mm 0521224350 35/75 R 17.5 464 mm – 2520 mm 0521224580 SN3020 ECO M 125 x 2 45/70 R 17.5 425 mm 0521224360 05/65 R 17.5 170 mm 0521224480 445/65 R 22.5 3505 mm 0521224370 Conventional M 125 x 2 75/70 R 22.5 915 mm 0521224380 425/65 R 22.5 3410 mm – 3470 mm 0521225110 0521225100 11 R 22.5 3175 mm – 3220 mm 0521225100C ( note below) ECO M 135 x 2 75/70 R 22.5 915 0521225130 55/70 R 19.5 830 – 2860 0521225240 SN4218 10 – 12 315/70 R 22.5 3015 mm – 3134 mm 0521225250 tonne 55/70 R 22.5 830 mm – 2860 mm 0521225410 75/70 R 22.5 915 mm 0521225420 315/70 R 22.5 3015 mm – 3134 mm 0521225440 ECOPlus M 136 x 2.5 11 R 22.5 3175 mm – 3220 mm 0521225450 385/65 R 22.5 3240 mm – 3260 mm 0521225460 12.00 R 22.5 3280 mm – 3310 mm 0521225470 ECO M135 x 2 65/70 R 19.5 620 mm – 2650 mm 0521225200 SN3620 ECOPlus M 136 x 2.5 65/70 R 19.5 620 mm – 2650 mm 0521225380 BPW exciter ring Exciter Ring 80 Teeth 9t Conventional and ECO hub 0331008180 Exciter Ring 80 Teeth 9t ECOPlus 0331008530 Exciter Ring 80 Teeth 10t ECOPlus 0531008441 Clamp Lead ABS 0203263200 565 Rivet, ABS, Lead Clamp 0260052540 570 Sensor and Lead Angled 0233170500 571 Bush Sensor ABS 0203165900 585 Bracket ABS 0318907720 586 Clamp ABS Plug Bracket 0214211100 587 Washer ABS Plug Bracket 0254141190 Sensor Bracket 0318907870 551 Cap Screw 0250159480 M 16 x 12/912 4 553 Spring Washer 0256010690 A 6/127 4 560 Exciter Ring 80 Teeth 0331008180 152/170×15 564 Clamp Lead ABS 0203263200 565 Rivet, ABS, Lead Clamp 0260052540 570 Sensor and Lead Angled 0233170500 571 Bush Sensor ABS 0203165900 585 Bracket ABS 0318907720 586 Clamp ABS Plug Bracket 0214211100 587 Washer ABS Plug Bracket 0254141190